Overview of the platform
Currently, in the world there are many powerful people, who are those whose words alone are enough to change the world, and one of those people is Elon Musk.
Elon Musk is a technology billionaire, owning billions of dollars in assets, technologies that we once thought were only in the future. And one thing is for sure, Musk's influence cannot be expressed in a few words. We saw how massive the growth of Bitcoin was when Musk, with just one line, announced that he was in favor of Bitcoin becoming an official currency. And we also saw how the coin itself dropped in value when Musk said that he would no longer accept Bitcoin payments. Those are just a few of the latest pieces of information that could prove just how influential Musk is.
Elon Musk is one of the first billionaires to show his support to cryptocurrencies publicly. His presence in this market will entail an effect and a huge capital inflow in the future. $MUSK & MuskSwap wants to build a community to follow & support not only Elon Musk but also many billionaires who believe in the development of crypto market, which can help to increase the value of many potential coins & tokens. 
What does MuskSwap have?
A special feature of MuskSwap is that this platform is built on the BSC (Binance Smart Chain) protocol, one of the best protocols available today. This makes it possible for the users of the platform to have the best experience, with blazing speed, and a world-leading level of security. 
The first one: Swap & Liquidity pools
Joining MuskSwap Liquidity Pool is one of the steps for users to become Liquidity Providers, and own LP tokens. While this is a very basic step that we're sure the vast majority of users are familiar with, let's re-explain it a bit:
When users provide liquidity into our pools, which are locked by smart contracts, they become LPs, and receive LP tokens. The number of LP tokens is completely at the user's discretion.
After becoming a LP, users can freely participate in features such as trade and swap, among other functions to be able to receive high profits.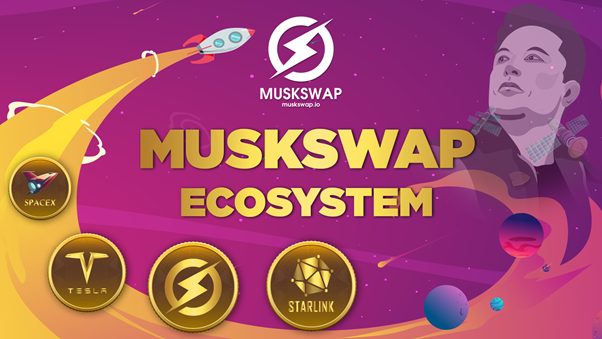 Second: Token collection
The ecosystem also includes $MUSK, $SPACEX, $TESLA, $STARLINK, the symbols of which show the most famous super projects of Elon Musk. Those tokens are in development & coming soon to the community and can be staked or farmed on the platform. 
Third: Farming & Staking
We highly suggest users to use the LP tokens they receive to farm MUSK, because they will be able to get APY up to 500% and even higher. Or simply by staking $MUSK, , $SPACEX, $TESLA, $STARLINK can bring similarly high APY. However, that does not mean that we do not focus on other BSC tokens, and farming and staking those tokens can also bring extremely high APY, at least 100%.
Fourth, Lottery
The lottery feature is a third method that can give users an almost free token amount.
Token Sale
o   Pre-sale (01 Aug ~ 31 Aug, 2021): 
50,000,000,000,000 MUSK, price : $0.000000025
o   Public sale round 1 (01 Sep ~ 30 Sep, 2021):
50,000,000,000,000 MUSK, price : $0.000000035
o   Public sale round 2(01 Oct ~ 31 Oct, 2021): 
50,000,000,000,000 MUSK, price : $0.000000045
o   Public sale round 3(01 Nov ~ 30 Nov, 2021): 
50,000,000,000,000 MUSK, price : $0.000000055
o   Public sale round 4 (01 Dec ~ 31 Dec, 2021): 
50,000,000,000,000 MUSK, price : $0.000000065
In each round, we will sale 50 billion tokens, a large enough amount of tokens to serve the needs of users.
Swap market price : $0.0000001 up
Those who can't buy MUSK during the token sale don't need to worry, because the amount of tokens we issue is 1,000,000,000,000,000 MUSK. That means there are still a lot of tokens waiting for users to get into their possession.
Airdrop: The other way to get MUSK is via Muskswap and farming on the platform or earn via Airdrop program of 30,000 billion $MUSK (~$3,000,000).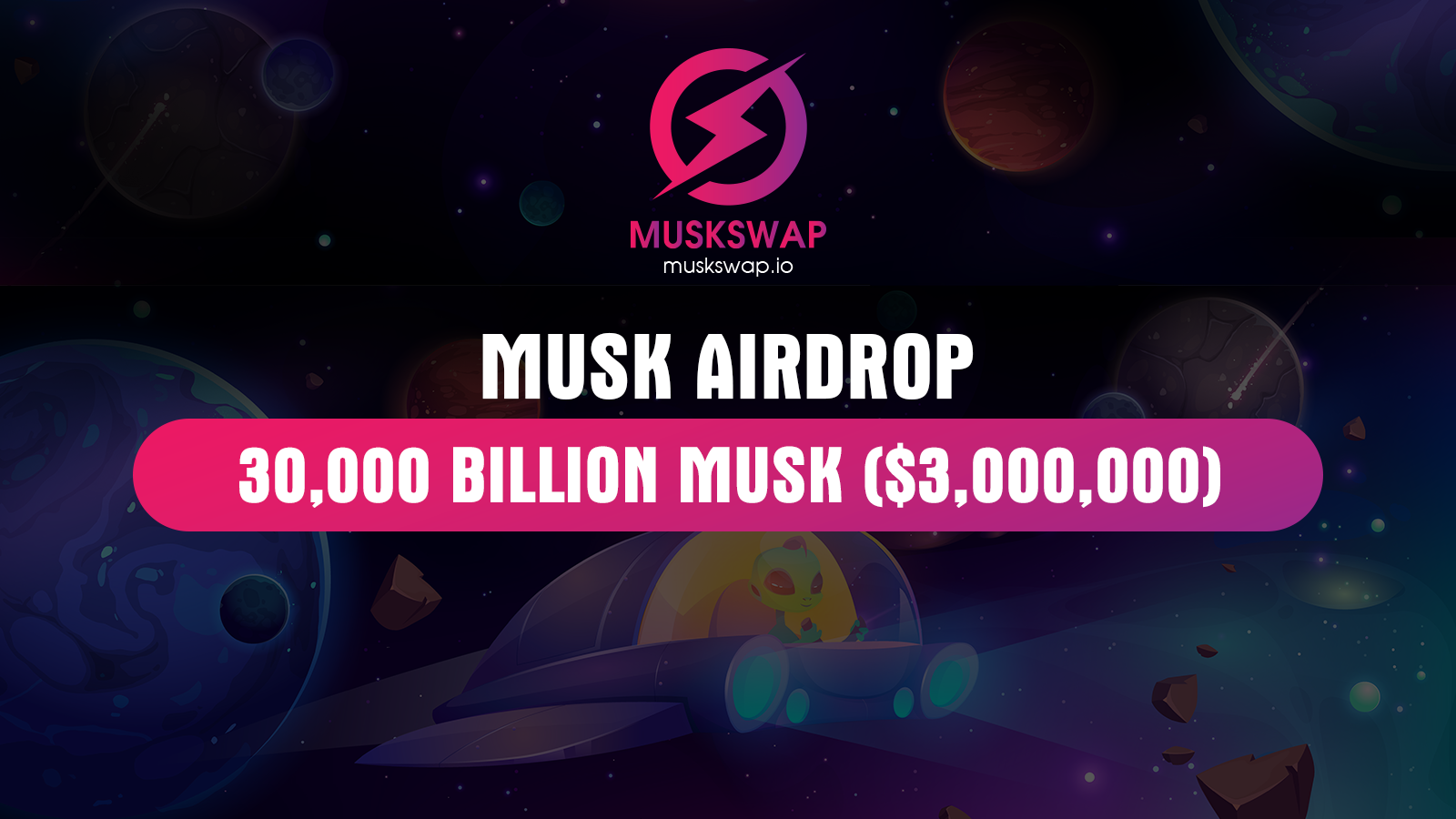 Token Address: 0xcD657182A749554fc8487757612F02226355269d
These links can help you for more information, click on them if you want to know more about the platform:
Telegram channel: https://t.me/Muskswap_Official_Channel
Telegram group: https://t.me/Muskswap_community
Reddit: https://www.reddit.com/user/muskswap_official 
Twitter: https://twitter.com/muskswapchannel
Medium:  https://medium.com/@muskswap-official
The post $MUSK – A NEW COIN BORN AS ADMIRATION TO ELON MUSK appeared first on NullTX.
Source: null tx