The crypto market is a bit unpredictable and shaky these days. In fact, just one tweet by Elon Musk on May 12 of this year crashed the entire market within 24 hours. On the one hand, crypto is promising as a long-term investment opportunity, and on the other hand, digital coins like BTC and ETH can get over-purchased and experience major corrections from time to time. So, what can crypto HODLers do during times like this?
Savings And Cash
We all know that keeping savings in cash is not a great strategy. The inflation rate in the United States reached a 13-year high in April 2021. While DeFi solutions like Nexo and Celsius Network offer 8-12% APY for staking stablecoins, these returns may not seem like great deals for some retail investors who have limited amounts of available capital for long-term staking opportunities. However, there is something new out there that users can try: NFT staking.
What Is NFT Staking?
4BULLS.GAME, an NFT game that was created by 4Bulls, recently introduced a unique NFT staking program. The 4Bulls NFT Staking offers a type of staking in which a crypto holder locks NFT artworks for a period of time and gets rewarded with 4Bulls tokens for holding non fungible tokens. Besides providing nice artwork to look at, the DeFi protocol allows 4Bulls NFT holders to earn significantly high returns for staking their NFTs. Similar to traditional staking, 4Bulls offers NFT holders the opportunity to earn staking returns in 4Bulls tokens (4B).
The fundamental difference between staking regular crypto versus staking NFTs is that 4Bulls NFTs offer relatively high APYs. On 4BULLS.GAME, NFT holders receive rewards in 4B tokens, which can potentially be exchanged for other cryptocurrencies on Uniswap. The user's APY depends on the types of NFTs and chosen lock periods for staking.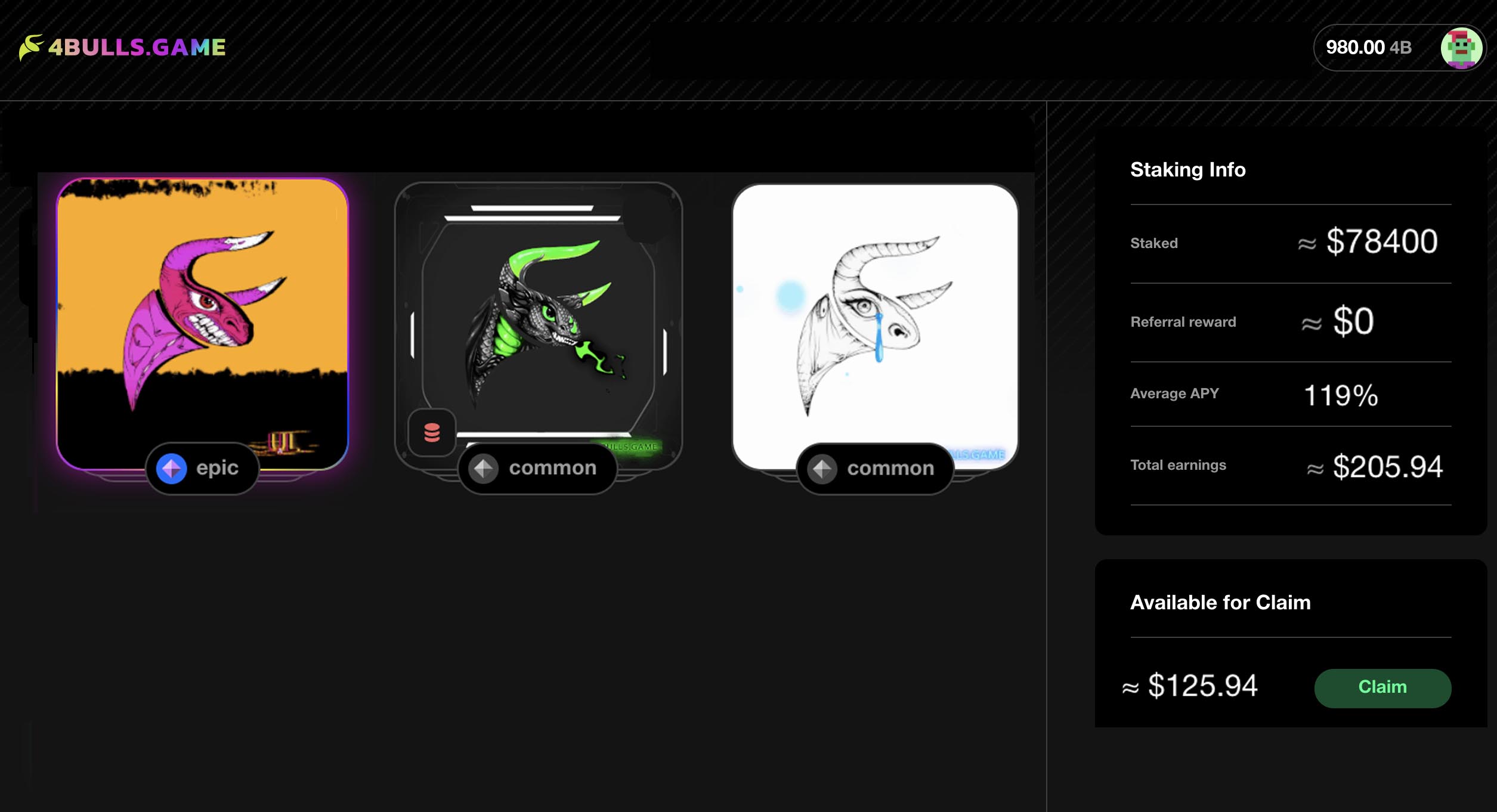 Staking Different Types Of NFTs
There are several types of NFTs offered by 4BULLS.GAME. Each type of NFT is a piece of unique artwork exclusively created by 4Bulls' artists. Each type of NFT represents a certain number of credits. Currently, each credit is valued at 100 USDC/DAI.
The NFTs come in three rarity levels: 1) Common, 2) Rare, and 3) Epic. Common non-fungible tokens are featured for sale in the official gallery of 4BULLS.GAME. On the other hand, Rare and Epic NFTs can only be won when participating in fantasy battles on 4BULLS.GAME. Gamers are incentivized to engage in battles to win Rare and Epic NFTs because such "rarer" NFTs offer significantly higher APYs when staking.
Types Of NFT Locks
Each type of NFT lock period offers a different APY for staking. The lock periods are as follows: 1) No Lock, 2) 3-month Lock, 3) 6-Month Lock, and 4) 1-Year Lock. The length of a lock session directly impacts the APY; the longer the session, the higher the APY. For example, with "No Lock" option, the APY is 70%; with "1 Year Lock" options, the APY is 300%.
By purchasing a common NFT, a user can receive the following staking rewards: 70% APY under the No Lock option, 150% APY under the 3-month lock option, 200% APY under the 6-month lock option, and 300% APY under the 1-year lock option. The APY is applied to the artwork's original value, and staking rewards are paid in 4Bulls tokens (4B). For example, if a user purchases a 4Bulls "Common" rarity, "Black" type of NFT worth 1 credit (which is equivalent to 100 USDC/DAI) and stakes the NFT on 4BULLS.GAME under the "1-Year Lock" option, the user can earn 300 USDC/DAI in 4Bulls tokens (4B) within a period of 1 year under the current APY. (Of course, the user can unstake his or her NFTs anytime if he or she wishes to do so, however the APY for the "No Lock" option will apply to stakers who terminate their staking sessions earlier than the end of their selected lock periods.)
Rare And Epic NFTs Provide Higher APYs
For selected staking sessions, Rare and Epic NFTs offer higher APYs compared to Common NFTs. 4BULLS.GAME users who win Rare and Epic NFTs and stake these NFTs earn significantly higher rewards. Currently, users with Rare NFTs receive 1.2x the APY that users with Common NFTs receive, and users with Epic NFTs receive 2x the APY that users with Common NFTs receive in rewards by the end of their staking sessions. Because Rare and Epic NFTs can only be won in fantasy battles on 4BULLS.GAME, obtaining such non-fungible tokens (NFTs) is definitely not an easy process overall. 4BULLS.GAME outlines the game rules on the "How It Works" page.
Let's review an example of rewards that can be earned with Rare and Epic tokens with the current APY. If a user stakes 1 Rare NFT that is valued at 1 credit (Type: Black, Rarity: Rare) for 1 year, then the user's APY at today's reward rate would be 360% (300%*1.2). An NFT holder with 1 Epic NFT that is valued 1 credit (Type: Black, Rarity: Epic) would be eligible for 600% APY (300%*2) at today's reward rate. Of course, winning Rare and Epic NFTs is not easy, but the potential rewards may be worth it.
How Do The Referral Rewards Work?
For users who have access to a network of potential NFT stakers, 4BULLS.GAME offers referral rewards. By sharing the referral link with others and engaging new stakers via the referral link, referrers will be receiving a 5% match of recurrent staking rewards from their referrals. The referral opportunity is designed to reach out to more potential users through crypto influencers on YouTube and other social media platforms. The rewards can be claimed instantly via the 4Bulls staking page – the entire process is automated.

The 4Bulls Ecosystem
While the rewards offered via NFT staking may sound "too good to be true," after a thorough examination of the 4BULLS.GAME protocol, it becomes clear how the money flows. The 4Bulls ecosystem represents a pure DAO model, which means that each product in the ecosystem belongs to the DeFi community. That being said, all remunerations made from sales of digital artwork and fees collected during fantasy battles get reinvested back into the 4Bulls community through its utility token 4B (the revenues are then redistributed proportionally among the stakers and referrers). That means that revenues collected by the protocol go to the protocol's users. As the platform develops, stakers will be able to participate in voting to adjust fees, APY rates, and other important metrics related to the operations of the DeFi protocol.
4Bulls To Mint Some New Millionaires?
While users can take advantage of staking opportunities with different crypto assets (for example, staking Cardano can result in approximately 5% APY), NFT staking is a new concept that 4BULLS.GAME offers, with APYs ranging from 70% to several times as much, depending on the type of NFT and the lock period. Coupled with the referral rewards that are being offered, the NFT staking program is likely going to mint some new millionaires in the near future. Given these sizable returns, this is an opportunity worth trying.
The post NFT Staking; New Crypto Millionaires? appeared first on NullTX.
Source: null tx