The world of play-to-earn (P2E) gaming has been exploding across the blockchain, with NFTs playing a central role in their ecosystems.
The recent Metaverse play-to-earn trend is why (along with an innovative game and NFT development strategy) the WAX Studios' (the creative arm of the WAX Blockchain) soon-to-launch Blockchain Brawlers P2E game has seen its Founder's Edition Legendary 1-of-1 NFTs auctioning for tens of thousands of dollars a pop and its top seller going for more than $45,000 on the Binance NFT auction block.
And, just when you thought it couldn't get any more exciting for Brawlers and its rapidly growing community, the "rowdiest play-to-earn game metaverse" announced that 16-time wrestling icon "Nature Boy" Ric Flair is making his debut on the WAX Blockchain as a Blockchain Brawlers Legendary NFT and unique game piece. 
If players have had a hard time getting their digital hands on a Blockchain Brawler, Ric Flair is here to save the day (with tons of attitude, to boot).
Come early March, and a unique pack drop will go live – each containing one (1) "Nature Boy" Ric Flair Legendary NFT and one (1) free Ring NFT, so players can dive head-first into the fight without missing a beat at the game launch.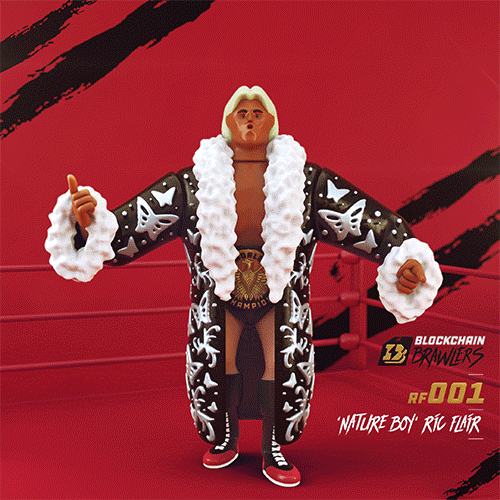 Just like the "Founder's Edition" Legendary 1-of-1's, all "Nature Boy" Ric Flair NFTs come in various designs to match his flashy personality, and all packs are randomized.
The collection includes unique NFTs, including four editions (aka rarities), including Standard, Hard Core, Cage Match, and Death Match. Plus, a handful of lucky collectors have the chance of unpacking ultra-rare versions featuring Ric Flair wearing National Champion, World Champion, and Metaverse Champion belts.
There will only be 100 "Nature Boy" Ric Flair packs available for sale, which will most likely make these collectibles and Legendary Blockchain Brawlers game pieces quite valuable as anticipation for the official game launch in builds toward the end of Q1 of 2022.
"We're head over heels excited for "Nature Boy" Ric Flair to join Blockchain Brawlers," said William Quigley, President and Co-Founder of WAX.
"He has made massive waves in the ring for decades, so it's only fitting for him to bring his talents and exuberant persona to the metaverse. This is a dream come true for the WAX family and community." 
Blockchain Brawlers is slated as the first of several play-to-earn games released by WAX Studios in the coming months and years.
"Blockchain Brawlers on WAX represents a huge leap forward for the blockchain gaming community of players. We combine best-in-class user experiences with an ultra-compelling crafting component. This will be buoyed by a well-balanced in-game economy to deliver the most compelling experience in the P2E space," said Michael Rubinelli, Head of Studio, WAX Games.
For more information on Blockchain Brawlers and to get in the action, visit https://bcbrawlers.com
For up-to-the-minute updates, stay tuned to the game's Discord channel.
Disclosure: This is not trading or investment advice. Always do your research before buying any cryptocurrency.
Follow us on Twitter @nulltxnews to stay updated with the latest Metaverse news!
The post Wrestling Icon "Nature Boy" Ric Flair Joins Blockchain Brawlers on the WAX Blockchain appeared first on NullTX.
Source: null tx
Source: thinkbitcoins